The "Act 24" of the Yellow Vests movement coincided with the 1st of May and it turned out to be a yellow May Day. 1+1 Forum was there.
From Rue Voltaire we turn to Marat Avenue to take the subway at Mairie d'Ivry (the municipality belongs to communists since 1945) station across the Robespierre Cultural Center. Our direction is Montparnasse Square, the meeting point of the May Day rally.
We had already warmed up for the event by watching J'veux du Soleil (I Want Some Sun), directed by François Ruffin whose Merci Patron had been the main inspiration of the 2016 Nuit Debout ("Rise up at night") demonstrations. J'veux du Soleil is shown at most Parisian theatres for a standard fee of 13 euros, but at the municipal cinema Luxy, which functions more as a cultural centre, than as a simple movie theatre, it's only 6,5 euros. Salute to the communist municipality.
J'veux du Soleil is a documentary which uncovers all the misleadings in the mainstream media about the Yellow Vests movement. The Yellow Vests speak for themselves: what they are going through, their thoughts, their feelings and the general sentiment of enough is enough. And also, the kind of society they envision. Almost in all scenes they explicitly or implicitly refer to the principles of the 1789 revolution: liberty, equality, fraternity.
They all emphasize that this movement has transformed them profoundly. The key words are fraternity, solidarity, mutual assistance, getting to know each other and cease being ashamed of and hushing up their poverty.
They're confronted with the same line of criticism in the mainstream media as well as in their own social environment. "You're going to take Emmanuel Macron down and pave the way for the far-right Marine Le Pen." This has led to break-ups with some of their friends and even family members. A young female Yellow Vest says what offended her most was "being called fascists by the media".
J'veux du soleil takes its title from the song of a group called Au p'tit Bonheur (A Little Happiness) whose frontman Jamel Laroussi wrote in 1991. In the closing sequence "J'veux du soleil" is sang by a female Yellow Vest and the director François Ruffin.
In the April 17th issue of Inrockuptibles magazine, a pioneer of the French New Wave film movement, Jean-Luc Godard flunks J'veux du Soleil. "It hasn't been edited." From an artistic point of view, he may not be entirely wrong. Some sequences could've been cut down, some could've been extended, and more archive footage could've been put in use. Nevertheless, J'veux du Solei is loyal to the facts and to the Yellow Vests reality. It's especially this accuracy that disproves the myths spread by the mainstream media. That alone is a noteworthy achievement.
As we leave the cinema with these thoughts, Georges Gosnat, the main avenue of Ivry, is draped with May Day posters and placards. They all refer to the Yellow Vests. One of them reads, "This May Day will a yellow May Day!" 
Black Blocks 
In the metro, on our way to the meeting point of the rally, our host, veteran trade unionist Claude Marchand explains: "On this May Day, alongside the unions, there'll be two other main actors: Yellow Vests and Black Blocks."
Black Blocks? 
"It's not an anarchist organization, they are people from various groups of the radical left. They're called with that name because of their outfits. They're the French version of the German Black Blocks. They're mostly very young and bold. They've been at the forefront of every demonstration for the past few years. They never hesitate to confront the police. And the police have great difficulty in dealing with them. Not only because of their physical resistance, but because of their lack of formal organization, leader, headquarters or a decision-making structure. The police don't know where to focus. Black Blocks are criticized by most leftist groups because they often invite police violence. And the media put them in the spotlight. They talk endlessly about the "violent Black Blocks" as to scare people away from the demonstrations. In the past three days the TV channels have spoken only about them."
How was the rally last year, was participation high? "We were thirty thousand, there was a huge police contingent too, but not as much as today. It was in the news, seven thousand police force have been mobilized, that's twice the last year's number. I hope our numbers will be twice as well!"
Isn't thirty thousand a small number for place like Paris? "People are tired and scared. This degree of police violence has never been seen. But it flames the anger even more. So, it's quite possible that participation will be higher than last year."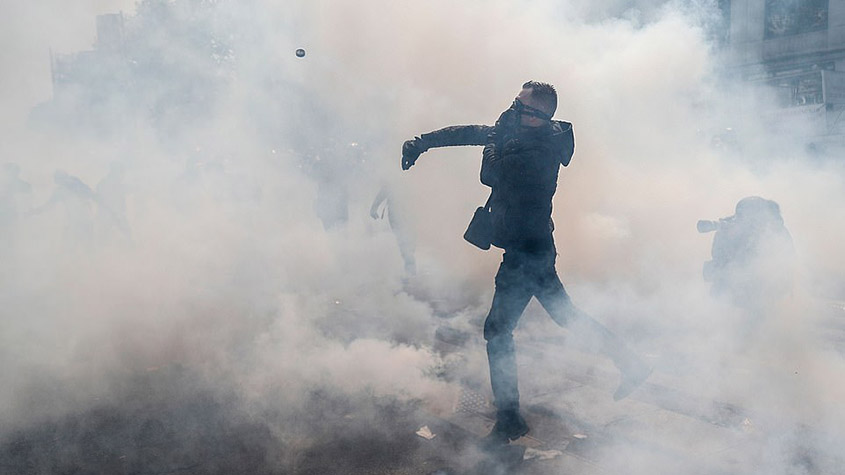 "Worse than de Gaulle's times"
We get off at the Gobelins station. Most subways are closed, so instead changing trains we'll go on foot by the Port Royal Boulevard. Police are everywhere. Each corner, each little street is blocked by hordes of fully equipped police force. The rally's itinerary is thoroughly under siege. Police vans are lined up on both sides of the boulevard in a never-ending convoy.
All the shops had to be closed for the day by government decree – "a first ever" says Caude Marchand. Nevertheless, there are several cafés disobeying the ban. Banks have taken special precautions and put up armours on their doors and windows. In no more than twenty minutes we go through four check-points. Bags are thoroughly searched.
Everybody's talking about police violence. An elderly lady sums it up: "It's even worse than de Gaulle's times."
Yellow May Day
Far away, above the Montparnasse square a cloud of smoke is visible,in a short while tear gas is upon Port Royal. And then police forces charge the crowd. Backing away, we head towards Gobelins. And the waiting begins on Saint Marcel Boulevard. At that point we hear the news of clashes between the police and the Black Blocks at Montparnasse, the starting point of the rally.
Finally, we see the spearhead of the cortege advancing slowly. It's indeed "Yellow May Day". Almost half of the group wear yellow vests. No Black Blocks in sight, maybe due to the clashes at Montparnasse. The cortege is lead by a mixed group, ranging from old timers to young post-hippies. The first banner that catches our eye is "Let's end the masquerade, let's take away their masks". And a highly coloured placard declares: "The texture of France is woven by migration." Followed behind by a solemnly carried French flag wearing the inscription: "Macron, France is not a land of idiots!"
We join the march and mix with people from all ages, genders, ethnicities. Whites, blacks, whites wearing keffiyehs, Arab women with or without headscarves, a young man carrying an Algerian flag, followed by a group of white French men and women with Palestinian flags. They're very much like the people we saw in J'veux du Soleil. The common trait is poverty and anger.
We march on in silence which seems quite uncharacteristic. We reach Saint Marcel Boulevard. Just as we were to complain about the lack of slogans, it suddenly explodes: "A-ha Anti, anti-capitalist." And tit's followed by "Re-vo-lution, Re-vo-lution…" Silence again. But not for long. A call to all Parisians breaks: "Paris get up, Paris stand up."
A funny one is a call to – as coined at previous Yellow Vests demonstrations– "capitalism's militia forces": "Police and gendarmes, come and join us!" A while later we come across the two most frequent banners of the rally. "Don't watch us, join us!" and "R.I.C." which stands for Citizens' Initiative Referendum – one of the main demands of the Yellow-Vests movement, calling for a more participatory democracy by way of referendums for vital political decisions.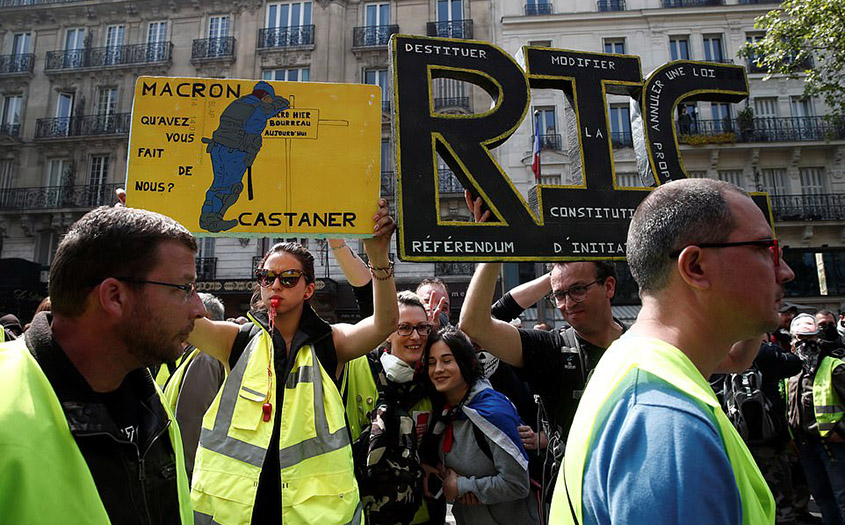 Songs of the Commune and the Nuit Debout Orchestra
It's 3:30 pm. It was announced that the rally would start at 2:30 and that the final destination would be Place d'Italie. This big square was to resemble Taksim Square of Istanbul owing to the violent efforts by the police forces to prevent the demonstration from actually taking place.
We spot a circled merry group chanting and dancing. As we get near to join the group gathered around the "The texture of France is woven by migration" banner we'd seen earlier. The chorus sings reading the lyrics from the text in their hands. Claude Marchand explains: "These are songs from the Paris Commune of 1871. A tribute to the thousands of murdered revolutionaries". We ask about the meaning of the last verse we heard, Claude Marchand translates: "You'll drowned in the blood you've shed."
Then we take the Hôpital Boulevard. A small group of people carrying portraits of the imprisoned PKK leader Abdullah Öcalan is marching on the sidewalk. On the fences along the road we see banners of the Iranian opposition. A little ahead we spot a banner of a Peruvian revolutionary group, it reads "Freedom for Guzman." Abimael Guzman is the leader of the communist organization Shining Path, imprisoned since 1992. We also notice some Partizan flags wearing the portrait of Ibrahim Kaypakkaya, a renowned figure of the revolutionary movement in Turkey.
We hear the news of fierce clashes in Place d'Italie and a little while later the smoke above the square becomes visible. Soon enough the intense gas reaches the Hôpital Boulevard and once again we have to retreat, now with burning eyes, noses and throats. We find ourselves on Saint Marcel Boulevard again. We join the crowd gathered around the Nuit Debout Orchestra oblivious of what's going on further ahead. It's a nice break indeed. Brass instruments and a chanting crowd.
"Too much, too much…"
But tear gas catches up once again while the police force narrowing the siege. We all find ourselves in a tight rank. Too tight. Next to us stands a middle-aged woman wearing a t-shirt with a sticker on it which reads, "Dream of yourself and dream of Marx."
The tear gas gets even more intense, people are even more squashed. And signs of panic arise. Some buildings open their doors to give shelter to fleeing demonstrators. We take refuge in a very small courtyard. After a short while some members of the Nuit Debout Orchestra join us in the courtyard. We are about 150 people stuck in a tiny space. Some of us are feeling faint. The janitor lets those in need of medical assistance inside the building. A few voluntary medics show up immediately out of nowhere. An elderly man murmurs: "You'd think we're in a war…"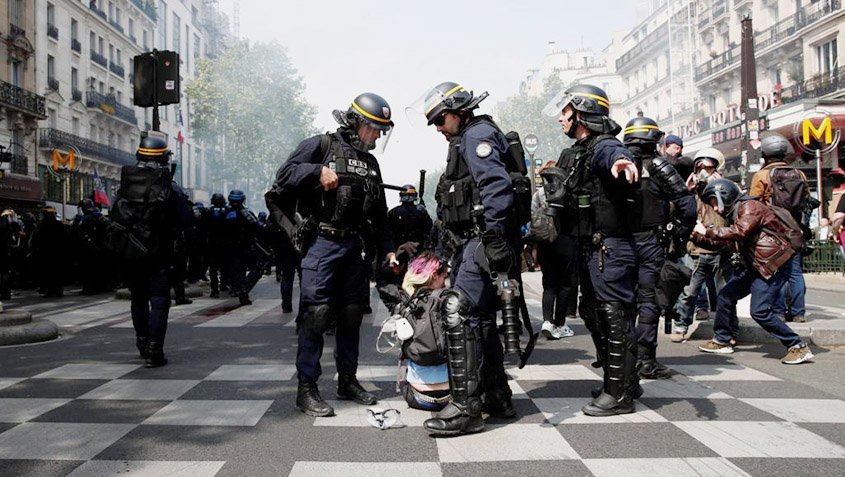 We wait for half an hour in the courtyard before the door opens again. Finally, some oxygen! And back to Saint Marcel Boulevard. The instant we set foot on the boulevard a chant breaks out: "Re-vo-lution". Then the huge speakers of the CGT van start to play Manu Chao's song Promiscuity: "Too much, too much…" 
The chorus of the song tallies perfectly with the police violence everyone's exposed to. The slightest squabble is responded with heavy tear gas and as soon as some demonstrators react to this abominable attitude they charge massively with apparent hatred.
Now things seem to be calmed down a bit. We walk past a few office buildings with broken windows. A young man with a scarf on his face, probably a member of the Black Blocks, shouts on top of his voice: "It wasn't us, the police did it. They did it to blame us. Don't believe them. They did it themselves."
Whenever we ask fellow demonstrators we get the same answer: "We haven't seen any Black Block attacking the police or breaking down any shop window." 
We find C.G.T.'s food and drink van. They have only soda water and rum left. We get a sip of rum for two euros and head to the Jeanne d'Arc statue for a respite. A middle-aged woman jokes: "Even Joan of Arc got her share of the gas!" Further ahead, a crowd of people listen attentively to a speaker. We get closer and lend an ear. It's the Gabonese opposition. But it's already the end of the speech, so we go back to Joan of Arc's statue. On its base someone tagged: "May 27 2019, General Strike!"
"I got radicalized by Pamela Anderson"
We march towards Place d'Italie following the C.G.T. crowd. By the sidewalk a graffiti catches our attention: "I got radicalized by Pamela Anderson". The once quite famous actress has become a prominent social media figure in France due to her affair with the French international football player Adil Rami and her outspoken political posts criticizing the system. But the real gist of the tag is the way mainstream media tries to give a criminal connotation to the word "radical" and convince the general opinion that "radical" means "potential criminal".
We notice the "Dream of yourself and dream of Marx" slogan we saw earlier, this time written on a big banner.
"No justice, no peace" 
When we finally reach Place d'Italie we hear Ciao Bella. A little ahead a middle-aged Yellow Vest reads a text to a police contingent guarding a small street. Then suddenly he turns up the speaker he's carrying on his back. It bursts out: "No justice, no peace!"
"I wouldn't want to be in your head / Nor under your cap / I wouldn't fit in your uniform / Too small for me / I don't have the soul of a watchdog / Nor deep pockets / (…) / You're the armed guardian of the oligarchy / (…) / You're the one attacking liberty / Silencing democracy / (…) / It's going to hurt, ay, ay, ay! / It's going to be brutal, ay, ay, ay! / (…) / Police everywhere, justice nowhere…"
We ask him, who is singing? "Uman" he says. "What was the text you were reading to the police? "It was a section of the law on police's mission and authority. Almost everything they did here today is against the law. How are they going to explain this to their children?"
Place d'Italie is festive. There are circles around circles. The group in the centre sing songs and anthems. Outer circles respond with slogans, as in a stadium: "A-ha Anti, anti-capitalist", "Re-vo-lution, Re-vo-lution…" 
"Citizen democracy"
Further ahead we see a female Yellow Vest being interviewed by Radio Canada. We draw near and lend an ear. "We want a real democracy. We don't want to vote for people who don't represent us. Our so-called representatives actually represent the interests of a very small minority. We want to decide for ourselves. What we want is very simple: A real democracy, a citizen democracy. Every weekend I take part in the Yellow Vests' demonstrations. We're the ones pursuing the principles of liberty, equality and fraternity. Yellow Vests movement is the embodiment of fraternity."
A poster catches our eye. We get a closer look: "Say no to being slaves to the oligarchs!" A few steps away we notice Agence France-Press' team. We wonder how they've been presenting the events. As we walk around we see once again our favourite slogan of the day: "Dream of yourself and dream of Marx."
We leave the square by Louis-Auguste Blanqui Street. The street is called after one of the prominent revolutionary figures of the 19th century. Blanqui is also the author of the magnificient Eternity by the Stars. Perhaps we can begin dreaming with that. Marx will undoubtedly join in. In such dreams he's omnipresent.
On our way back, we knock on the door of Claude Marchand whose sight we'd lost during one of the police charges. How does he view the day? "There were twenty thousand demonstrators according to the police, but the number C.G.T. gave is fifty thousand. It's obvious that the police want to decrease the real number, which is most likely closer to what the C.G.T. says. That means the participation was twice as much as last year's May Day. I think it will be even more next year. We'll see. Now the next step is the big demonstrations of May the 9th. That may create a dynamic. In any case from now on the wind is on our side. As the weather gets warmer so are the demonstrations! It's the first time in years I've heard the slogan 'revolution' chanted so much."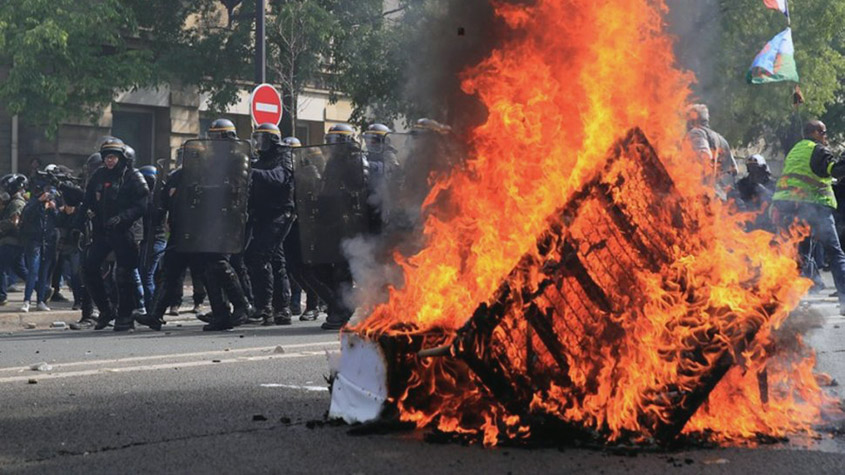 From AFP's perspective 
As the night falls we check Agence France-Press' summary of the events.
– According to the Ministry of Interior 151 thousand people attended May Day demonstrations in France. In 2018 the participants were 143 thousand 500.
– There have been large gatherings in Nantes, Bordeaux, Marseille, Grenoble, Toulouse, Lille and Lyon. Some clashes have taken place in Lille and Lyon.
– After the violent anti-capitalist Black Blocks provoked a police intervention, 288 people have been arrested. Police officers did around 15 thousand security checks. Many acts of looting and vandalism have also been noted. Demonstrators chanting, "Police is our enemy", have besieged Paris' 13th arrondissement police station. Police officers secured the building using tear gas and barriers.
– Secretary-General of the C.G.T. Pierre Martinez has accused police forces of "attacking clearly identifiable union members" instead of Black Block activists. Paris Police have rejected the claim in a Twitter post, stating: "At no point a union member was the target of our intervention."
Agence France-Press is supposed to be a reliable source of information. But as we see: "After the violent anti-capitalist Black Blocks provoked a police intervention…" The reason 288 people got arrested was not Black Blocks' provocation. On the contrary, the agent of provocation was the police. Inserting the phrase "instead of Black Block activists", right after the quoting C.G.T.'s Secretary-General's remarks… Not a single mention of anything related to police violence… If a public news agency treats facts this way, you can imagine how the private channels presented the events. 
"I want some sun"
We've begun with J'veux du Soleil, let's wrap up with it. In one of the most striking sequences of the film, a young Yellow Vest answers François Ruffin's questions: 
– What's the reason of your anger?
– When I began working back in 2004, I used to get by much easier. Gradually I had to do temporary jobs. And then even those jobs became fewer and fewer. And my living standard decreased step by step. Now I don't even have a home. I live in a van parked in a field.
– What was your area of work?
– All types of construction jobs. I'm graduate of vocational school, I have a certificate in electronics. But I've never found work in that field. I've learned roof repair. But couldn't find any work. Then I've begun to work as a bricklayer. I was always short of jobs. It was a slow descent into hell. Then I met some of my friends in these demonstrations. I urge everyone to join us in these meeting points. Before these demonstrations everyone was alone by himself, watching TV or on his phone. Now we're learning to get to know each other. It feels really good. The friendship, the sincerity, the mutual respect, all these things we were longing for. The search of harmony between people is at the heart of our movement and of this big anger. If we get along better we can all live a much happier life, knowing and talking to each other.
Towards half way through the film a young couple is interviewed.
Woman: We weren't interested in politics at all. For decades we haven't had any hope. We didn't trust the politicians at all. Finally, we feel that a small door has been opened and maybe we can change our history a little bit. Once more we feel the desire to look into things, to understand and to learn.
Man: For instance, I'm trying to do some research. I read the constitution. I was never interested in these things before. The vocabulary is very unfamiliar, but with the help of dictionaries I try to understand.
Woman: Does anyone think we're not intelligent enough? We want to understand what's going on. We were asleep for a long time. But I can't stand it any longer. A small door is being opened. There's a faint light. It's faint but I'm chasing it. I will open the door.
François Ruffin: What's on the other side?
Woman: I see the sun on the other side. A yellow light.
Translated by Alican Tayla