A total of 440 Turkish women died at the hands of men in 2018: 28 in January, 47 in February, 25 in March, 30 in April, 37 in May, 39 in June, 37 in July, 41 in August, 45 in September, 34 in October, 32 in November, 45 in December… In that same year, 317 women were victims of sexual violence. In 2019, so far 43 women are killed and 30 women were subject to sexual assault. Tired of reading and hearing about such tragedies and realising that feelings of anger and attempts of protest does not bring solution, a group of friends came together in the Istanbul suburb of Kartal to see what their contribution to a solution could be. Together, they established the Hedgehog Sports Association. Their aim is to bring out the inner "hedgehog" in those, especially women, who need the extra support in re-claiming their own strength. And they haven't stopped there. Two of the founding members, Duygu Gündoğdu and Levent Şanlıgül tell their story.
Where did the idea of Hedgehog Sports Association come from? When and how was it established?
Levent Şanlıgül: On this street [the street where Hedgehog Sports is located], there was a tea house which I used to go frequently on my free days. There I met a guy who practices muay thai and he asked if I would be interested in giving him aikido lessons. As we were discussing where and how we would do the martial arts training, the idea of establishing an association came up.
Duygu Gündoğdu: That tea house was run by a mutual friend of ours. It was a place where women were welcome and the employees were also women. I met Levent there. Recently, I was the victim of a sexual assault and I was resentful that I didn't know any methods of self-defense. Women should become mentally and physically stronger. As we were discussing the issues and what steps could be taken, we thought, "well, since we have a muay thai expert and an aikido trainer among us, let's take matters into our own hands and set up an association, reach out and extend our network". The first meetings of our association was held in that humble tea house. Gradually, each one of us brought a friend, and we began to build the network.
How did you become an aikido trainer?
Levent: I began learning aikido about six years ago. Then I joined a sports club. My master trainer was Cevdet Çınar, one of the most respected aikido masters in Turkey. Now, I train at Hedgehog Sports. This is not a place where the learning is a one-way process, from the master to the student. There is an exchange of knowledge, we all learn from the interactions with each other.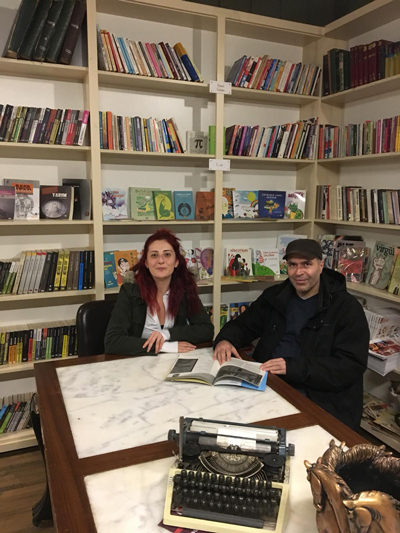 Duygu: We established the association in October, 2017. There were ten of us in the first meeting and I was the only woman. Now we have more than fifty members. There are also people who are not members but enroll in the classes. What we want to accomplish is, to have our members who learn and train in aikido or muay thai to reach a competent level of expertise in these sports and be confident enough to create a space in their own neighborhood where they can share their skill of these sports. We want to spread this flame to all neighborhoods.
When were you first interested in aikido?
Levent: I used to train in karate in my youth. Then I took up boxing for a short time and the moved on to aikido. Aikido comprises of three words, "ai" is unification, "ki" is the energy of the spirit and "do" is the "way". So it literally means, the way of unifying the spirit. In aikido, you use the strength of your opponent against him/her. It is not about violence or attacking someone, the goal is to be in harmony with nature. I must add that I was quite affected by Trevanian's Shibumi, it played a major role in my decision to take up aikido.
Duygu: I began to learn muay thai as a means of self defense. I attend the training sessions to learn how to defend myself and to be able to help my female friends who do not know how to defend themselves. Our aim is to support women or those who feel weak to bring out their inner strength. We want them to be able to defend themselves.
Is this connected with the name you chose for your collective, Hedgehog?
Duygu: The hardest part was finding a name! Right at the very beginning we came up with hedgehog. Then we threw around some other ideas for names, we thought about other animals' names… In the end, we were back to square one: Hedgehog. I think it reflects our message quite well.
Our priority is to bring out the inner strength of women and children. We aim reaching out to one another, empower ourselves mentally and physically.
Levent: The hedgehog is one of the most amazing animals. It is not a threat to anyone, it is not a predator, but when it is attacked, it stands to defend itself.
Duygu: I should add that the female hedgehog is 90 percent stronger than its male. Our main target group is women and children.  
Levent: Why do we participate in sporting activities? To feel happy, to feel at peace, to improve our self-esteem. Once you do these sports for a while, you reach a level where you can defend yourself. But it's not enough on its own. We talk a lot about how to complement it. We've come to think to complement it with a health diet. We did a bit of research on the matter. Ideas about joint production, mutual consumption and communal living spaces have begun to emerge. We thought that a cooperative model would be a good choice. Ideas have matured as we progressed. On the internet we've come across the Agricultural Cooperative of Büyükada and got in touch with them when we saw that they have an open-door policy.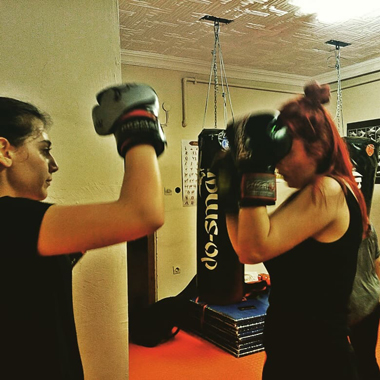 Duygu: Besides the sporting activities we also organize outdoor activities, such as nature walks. Women participate in these activities more often than men.
Levent: The closer a person is to nature, the better. We set four main principles: sports, healthy eating, education and skills which provide livelihood.
Duygu: We also get together to conduct thematic seminars. Our male friends conduct masculinity discussions and we hope to disseminate these events. On November 25 [International Day for the Elimination of Violence against Women], we organized an event. We also plan to hold workshops ranging from self-care to poetry with as many women as we can reach.
Are there any organizations or institutions which support you or which you collaborate with?
Levent: We receive modest donations from individuals and try to stay afloat with contributions and solidarity. We are an association, we receive membership fees, but they're quite modest. We cannot ask for high fees since our aim is to have as many members as possible. And our target group is not well-to-do people.
Are the individuals who maintain the association and conduct the activities volunteers?
Duygu: Yes. Neither of us are employees of the association. We don't have any financial expectations. But we have lots of friends who support us.
The name Hedgehog reflects our message. The hedgehog is not a threat to anyone, it is not a predator, but when it is attacked, it stands to defend itself.
Do you think women face discrimination, violence or abuse more often these days? Or do you think it seems so because these issues are now being questioned and spoken about?
Duygu: Women have been oppressed throughout the ages. But in the recent years, women have started to speak out against oppression, their self-esteem has risen and they have begun to claim their rights. I think that this is a cause for violence against women. Solidarity and cooperation among women is vital. Sometimes it is difficult for women to stand up against male oppression in the household, workplace or on the street when they're on their own. They cannot find the strength within themselves. But that magical strength surfaces when they see the support and solidarity of other women and thus the chain grows. I really do think that solidarity among women is crucial for breaking out of their shells.
You said "our male friends conduct masculinity discussions". Can you tell us about these discussions, what are the issues?
Levent: We conduct activities which give the opportunity to see both sides of the coin. This is one of our main intentions. We want to try to raise awareness in men; make a change in their daily habits, make them aware of the violence in the use of language and change the way we communicate.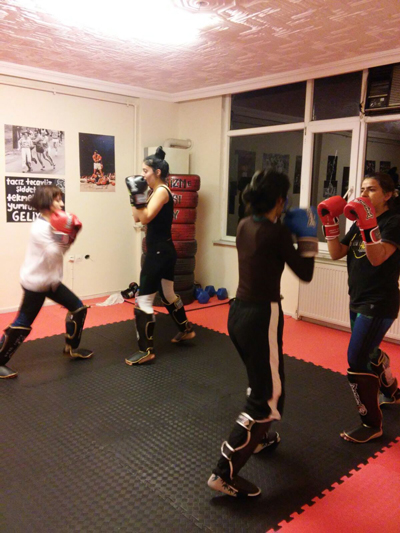 Duygu: Sometimes the men around us are not aware of the effect of their attitude or the language they use. When we come across unpleasant doings we make it a topic of discussion. Through such discussions they have the opportunity for reflection.
Levent: Sometimes the way we behave is not our choice, it's the inheritance of our upbringing. The more we are aware of such inheritance the more we try to overcome.
How do you run the association? How are the decisions taken?
Levent: We discuss the issues among us before taking decisions. None of us hold extreme, steadfast opinions. We always try to reach a common ground. When there are suggestions that are not favored by the majority, then they're taken off the agenda.
Duygu: We try to evaluate the issues from different perspectives. We have brainstorming sessions and try to take solution-oriented approaches. We write up the items we wish to bring up and then we discuss each one in turn. When we reach a broad-based agreement, we make a decision.
What would you think about Hedgehog Sports being a part of a production-consumption cooperative network?  
Levent: I really think highly of the idea of cooperatives. But people should not be establishing their own cooperatives that are the same or similar to those which already exist. It would be more productive to support and strengthen the existing ones. We are open to working with like-minded cooperatives. For example, we share the values and principles of the Agricultural Cooperative of Büyükada and therefore have begun collaborating with them.  
We want create happiness by ourselves, for ourselves. That's our plan!
What is the age range and gender composition of your members?
Duygu: The age range of our members is from 16 up to 55. The majority is the 20-30 age group. As for the gender composition, we haven't reached the 50 percent mark with our female members yet, but there is a gradual increase towards that goal.
What do you think is the main reason that attracts people to Hedgehog Sports?
Levent: People leave their inhibitions behind when they join the Hedgehog. We make no impositions on them, they do not feel they are under obligations of any sort.
Duygu: We enjoy our time while working here. We are open to and appreciate learning from each other. People enjoy the atmosphere here. When people comprehend our mission and principles, they embrace them. That's why they come to Hedgehog.
What are your plans for the near future?
Duygu: We will be offering pilates courses soon. Women are interested in pilates. We are also planning to start up a bicycle club.
Levent: Our mid-term aim is to develop our healthy food program.
Duygu: We want create happiness by ourselves, for ourselves. That's our plan! (Laughs)
How do you make your living?
Duygu: We all work. I am a teacher of disabled youngsters with special needs. I have long working hours, from 9 a.m. up to 7 p.m. Twelve hours of my day is spent at work. Whatever free time I have, I spend it on the activities of the association.
Levent: I'm a laborer. I work in the metal sector under tough circumstances. It's the kind of job that requires physical labor. Despite the unfavorable working conditions, I try to do as much sports as I can. Everyone can spare time for sports, all you need is will power.
Translated by: Ebru Pepedil